Human Centric Troffer Retrofit Kit Was Selected By IES Progress Report 2017
Toms River, NJ | December 12th, 2017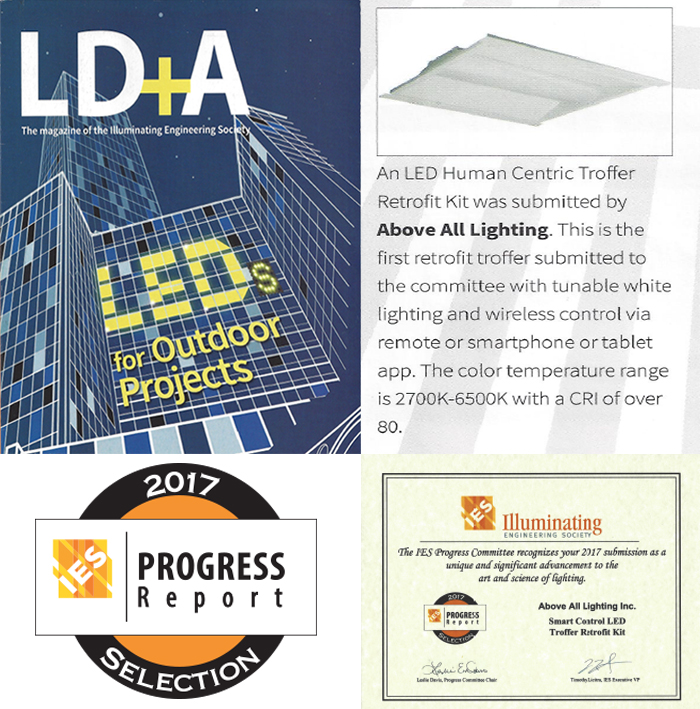 Human Centric Troffer Retrofit Kit was selected by IES Progress Report 2017 and be published at LD+A magazine at November Issues page 72.
This is the first retrofit troffer submitted to the committee with tunable white lighting and wireless control via remote or smartphone or tablet app. The color temperature range is 2700K-6500K with CRI of over 80.
Visit Human Centric Series at Here
About Above All:
Above All is a leader in the R&D, manufacturing and customization of LED indoor and outdoor light fixtures. Above All is focused on serving the commercial and industrial markets with a commitment to design and manufacturing excellence. Above All's Toms River, New Jersey headquarters serves as its main distribution warehouse, sales office and showroom. Above All assembled-in-USA products and customization of standard products are completed in its machine shop in Toms River, NJ. Above All has an enormous manufacturing base with its 600,000sf ISO9001 and ISO14001 certified factory in Asia, ensuring high quality products.